Landscaping: Design & Installation
For over 30 years Greenscapes has increased the beauty and value of Manasota homes and businesses, from modest properties to grand estates, by designing and installing beautiful landscapes.
Greenscapes designs and installs outdoor spaces which:
make the first impression you want to project
augment the architecture of your house/function of your building
take into account the realities of your space and the living materials that will thrive
appreciate over time, growing in beauty and timelessness
Whatever You Need
Few jobs are too large or too small for us.  We can simply provide your yard with some seasonal color or we can design and create a statement garden for you.
A perfect landscape requires 4 distinct components which need to work together in harmony.  Greenscapes provides the full package:
The Greenscape
Selecting and planting turf, plants and trees which reflect your taste, can thrive in the setting and provide needed function, e.g. privacy, shade, safety.


The Hardscape
Installing paths, walls, terraces, patios, steps, boulders, etc. to shape your outdoor space and to direct people in and around the landscape.


The Irrigation
Selecting the right kind of irrigation, either low flow, such as drip line or microspray, or high flow such as fixed spray or rotor, or a combination of the two.  Designing and installing a system which maximizes cover and minimizes water wastage across the entire greenscape.


The Lighting
Planning and installing the right combination of path lighting, accent lighting and function lighting to enable full enjoyment of your outdoor living area after dusk.  Helping you to choose hidden lighting or statement lighting to suit your taste and the character of your garden.
2 Dimensional and 3 Dimensional Designs
We can create and print 2D designs for you to sign-off which you can also use to seek needed authority and/or grants.  For larger scale jobs Greenscapes can also craft 3D interactive videos which allow you to see what your landscape will look like surrounding your specific house/building.  The 360 degree tour will enable you to immerse yourself with every detail of our design and modify it as you wish.
2D plan example:
3D Interactive video example: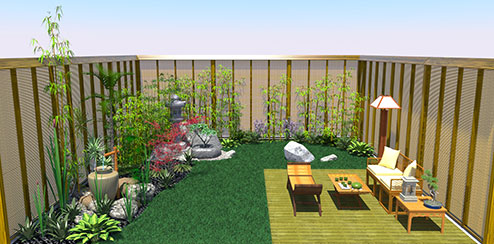 Landscaping – Your Best Home Improvement Investment
By spending 5% of the value of your home on the installation of a quality low maintenance landscape, you could boost the resale value by 15%, earning back 150% or more of your landscape investment.
Source: Taylor, C. 2003. "Fertile Ground". Smart Money, March 2003.
Homes with landscaping ranked poor relative to neighboring homes with excellent landscapes could expect a sale price 8 to 10 percent below equivalent homes with good landscape appeal.
Source: Henry, Mark S. 1994. Journal of Environmental Horticulture 12(2): 65-70.
Designed To

Package
Beautifully presented outside spaces can close a house sale.  If you are planning to sell your property in this competitive market and want to realize your best sale price, speak with Greenscapes about our Designed to Sell Package.
As part of our Designed to Sell Package we will:
Advise you how to optimize your budget to stage your landscape
Spruce up your garden so that it presents as flawless and easy to maintain
Install color themed plants in full bloom
Rent you garden furniture and outside décor to enhance the presentation
Provide photos, scale drawings and written information for inclusion in marketing materials
Maintain the garden before open houses and viewings