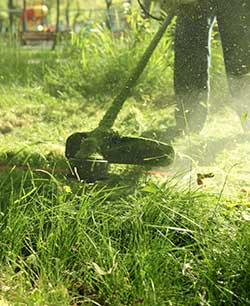 Greenscapes is growing. We regularly have a need for more staff.
Greenscapes aims to be an excellent employer. We are an ambitious, hard-working company. We pay well in comparison to our industry. We have a great health and safety record. We provide equal opportunities and treat all employees fairly. Many of our employees have worked at Greenscapes for years.
Job vacancies which arise include laborers, drivers, pruners, mowers, weeders, installers, crew leaders and managers.
If you are interested in joining Greenscapes, leave your details here and we will contact you when job vacancies arise. You may also upload a copy of your resume.
---
Current Openings:
Marketing Assistant
Marketing Assistant to assist with marketing for Sarasota landscape maintenance and installation company. Requires Bachelor's degree in Marketing and 1 year experience as Marketing Assistant or as Marketing Manager.  Mail resume to: JANASHATON, LLC DBA Greenscapes 3815 N Osprey Ave., Sarasota, FL 34234
Account Manager
We are looking for a 'hungry', enthusiastic junior manager to manage a portfolio of client accounts – in the first instance, single family homes and small commercial contracts. The successful person needs to visit clients, deal with problems and complaints, identify opportunities to sell additional services, keep accurate records, confirm conversations in well written emails and follow issues through to conclusion.
Greenscapes is committed to extensive computerization and the chosen candidate will have excellent administration skills as well as the ability to talk confidently and clearly to people s/he has just met. Preference will be given to applicants who in addition to those essential skills also have some horticultural knowledge.
Essential Skills and Experience
Hold current driving license (insurable)
Able to report to work daily at Greenscapes' premises at 3815 N Osprey Avenue in Sarasota, FL
Able to work one week 6.45 am to 3.15 pm and next week 9.30 am to 6.00 pm
Experience of presenting her/himself and speaking with people s/he has just met in a confident manner
Able to explain issues clearly, simply and with respect to a wide variety of people
Experience of writing professional business emails and letters
Experience of using Word to create and complete documents and spreadsheets
Able to use all basic Word facilities such as mail merge, tables and inserting images
Experience of working in a methodical way to follow up and follow through jobs and issues to prompt conclusion
Able to work at pace, to complete a high quantity of work in a short amount of time and to use time as effectively as possible
Able to maintain an eye for detail, checking his/her work before finishing
Desirable Skills and Experience
Experience of working in a horticultural business, such as another landscaping company, an arborist, nursery, farm, etc.
Able to identify and name common Floridian flowers, shrubs, bushes and trees
Able to recognize when a landscape is well-tended or not looking its best and know what needs to be done to improve its appearance
Able to recognize common Floridian pests and diseases and their effects on plants
Crew Leader for Integrated Crew
We are looking for a reliable, honest and hardworking person to become a Crew Leader of one of our full service crews.
If you are the successful applicant you will become a full time, year round member of our team, responsible for providing a fully integrated horticultural service to a number of our commercial customers.
Our Crew Leader must have:
Knowledge of the plants and growing conditions in Florida
Experience of inspecting and maintaining irrigation systems
Experience of fertilization and pest control
Experience of mowing and pruning
An eye for detail when reviewing the condition of an outside space
A clean driver's license
The ability to speak, read and write English
The ability to be courteous and friendly to customers
It would be helpful if our Crew Leader also has:
The ability to speak some Spanish
Some knowledge of south west Florida
Some experience of giving clear instructions to others and maintaining discipline as necessary
Some experience of using a smart phone, laptop or similar
---