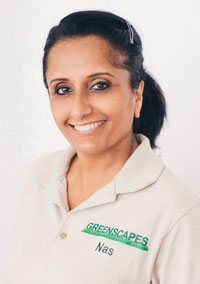 Nas Patel
Account Manager

Nas is responsible for ensuring all of our customers are happy.  She meets all new customers and provides them with proposals, costed quotes and contracts.  Nas ensures all customer questions or issues are dealt with promptly and efficiently.  She visits current clients at least annually to check on customer satisfaction. Nas makes sure Greenscapes fulfils its aim of delighting its customers.
Contact Nas with any customer questions or if you are interested in discussing regular maintenance of your garden/landscape  Nas@GreenscapesSRQ.com 
Nas has nearly 20 years of customer relations and marketing experience.  Her developing horticultural knowledge includes completing the Green Industries Best Management Practice exam and passing with 100%.
Russ Keeton
Installation Manager
Russ manages our installation projects.  He meets with customers interested in enhancing their landscapes and uses his creativity and horticultural knowledge to help them bring their vision to life.  Once a fully-costed proposal has been agreed, he oversees the project to ensure the highest quality of execution and to keep the customer up to date on progress.
Contact Russ if you are interested in investing in enhancing your garden/landscape Russ@GreenscapesSRQ.com 
Russ has worked in the landscaping industry in Florida for over 22 years.  He has worked for major landscaping companies in the Sarasota area, working for customers such as the Pittsburgh Pirates, Coast Cadillac and several country clubs and homeowner associations in Lakewood Ranch. He has also been the Landscape Supervisor for the PGA tour.