Tony Stevens
Finance Director
Tony ensures Greenscapes' financial stability and viability. Tony is responsible for billing our customers, paying our suppliers, managing our payroll and managing our various insurances. 
Contact Tony if you have a billing or payment question or want details of our insurance coverage Tony@GreenscapesSRQ.com
Tony has always worked in the financial world.  His career started in insurance and he went on to become a Military Accountant in the British Army.  As a veteran he has managed all aspects of business finances both in the UK and USA.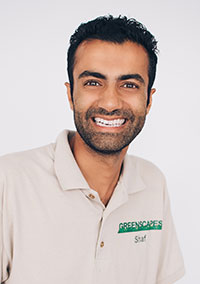 Shaf Patel
Operations Manager
Shaf is our Certified Pest Control Officer and our Qualified Irrigation Contractor.  He oversees all of our fertilization and irrigation services, answers customers pest control, fertilization and irrigation system questions and personally provides our Arborjet tree and palm treatments. Shaf also manages our schedules, crews and equipment. Shaf regularly tours our customer's premises to ensure all of the properties we maintain look great and are flourishing.
Contact Shaf if you have a fertilization, irrigation or scheduling enquiry Shaf@GreenscapesSRQ.com 
Shaf's entire career has involved managing crews of workmen to maintain properties, initially focusing on building maintenance and later landscape maintenance.