Out with the OLD… In with the NEW!
October 13, 2020

Met with client in early April to discuss their landscape needs.  The client wanted a fresh new look for the front of the house as well as the back-left corner of the lanai.  Also, the client wanted plant material that the landscapers would not just use a hedge trimmer on but something that would require less maintenance. The left side of the walkway did not match the right side and there was no flow or consistency across the front of the house. 
In front of the house the Aztec grass was removed, Dracaena 'Song of India' was relocated to the back of the house, and the Crotons remained as they were in good shape and the client liked the color they provided.  The Hibiscus on the front left was old and needed to be replaced.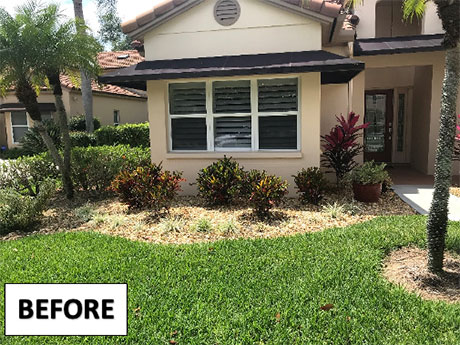 The bed line was redefined to allow for additional plantings on the corner.  A black Aluminum Edging was installed to define the new bed shape and keep the rocks from working their way into the turf.  There was also no weed mat under the existing stone which was causing the rock to work its way into the soil profile, so the rock was removed from the bed and kept for reinstallation.  The front and left front corner of the house had Carissa 'Emerald Blanket' African Iris, Gardenia, Bird of Paradise, and Kings Mantle installed to add color to the front as well as lowering the maintenance on the garden.  The rock was reinstalled, along with additional new rock, on top of the new weed mat to finish the bed.
The left side of the lanai also needed to be redone as the Hibiscus had seen better days and the Liriope had taken over the corner of the lanai and was transplanted behind the lanai. 
A section of the Arboricola was removed to make room for the new plantings but still provide privacy to the living room window.  The step pads that led from the side door of the lanai were removed as they were in bad shape and new 2' x 2' step pads were installed to create a walkway from the door to the turf area.  The bed was planted with Kings Mantle, Gardenia, African Iris, Dwarf Bougainvillea, Croton, and African Bush Daisy as well as Ti Plants.  The bed was top dressed in new rock to give it a new clean look for the client.