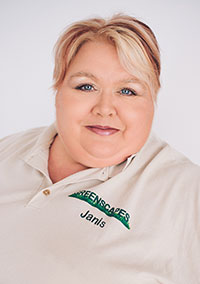 Janis Stanford
Business Development Manager

Janis is responsible for establishing and developing Greenscapes' strategy, policies and systems.  She ensures Greenscapes remains in compliance with all statutory and regulatory requirements and reviews the delivery of our services against industry standards and best practice to promote continuous improvement.  She undertakes our marketing, and oversees health and safety.   Janis is currently qualifying as a Green Industries Best Practice Management Trainer.  She also manages our annual Greenscapes Giving Green donation.
Contact Janis if you wish to comment on any health and safety issues, or if you have a suggestion of how Greenscapes could improve, or if you want more information about Greenscapes Giving Green Janis@GreenscapesSRQ.com
After being a trainer and business consultant for many years, Janis founded and led her own successful management consultancy firm for over 20 years.   She is an expert in business development and human resource legislation.
Tony Stevens
Finance Director
Tony ensures Greenscapes' financial stability and viability. Tony is responsible for billing our customers, paying our suppliers, managing our payroll and managing our various insurances. 
Contact Tony if you have a billing or payment question or want details of our insurance coverage Tony@GreenscapesSRQ.com
Tony has always worked in the financial world.  His career started in insurance and he went on to become a Military Accountant in the British Army.  As a veteran he has managed all aspects of business finances both in the UK and USA.